Value Creation Philosophy
Motherson is focused on creating long-term value, based on a relatively simple logic. We believe that being part of something beyond our own boundaries and creating value for others is one of life's most powerful motivators. It provides deep meaning to what we do. This motivation is at the heart of our long-term value creation process.
Our Value Creation Cycle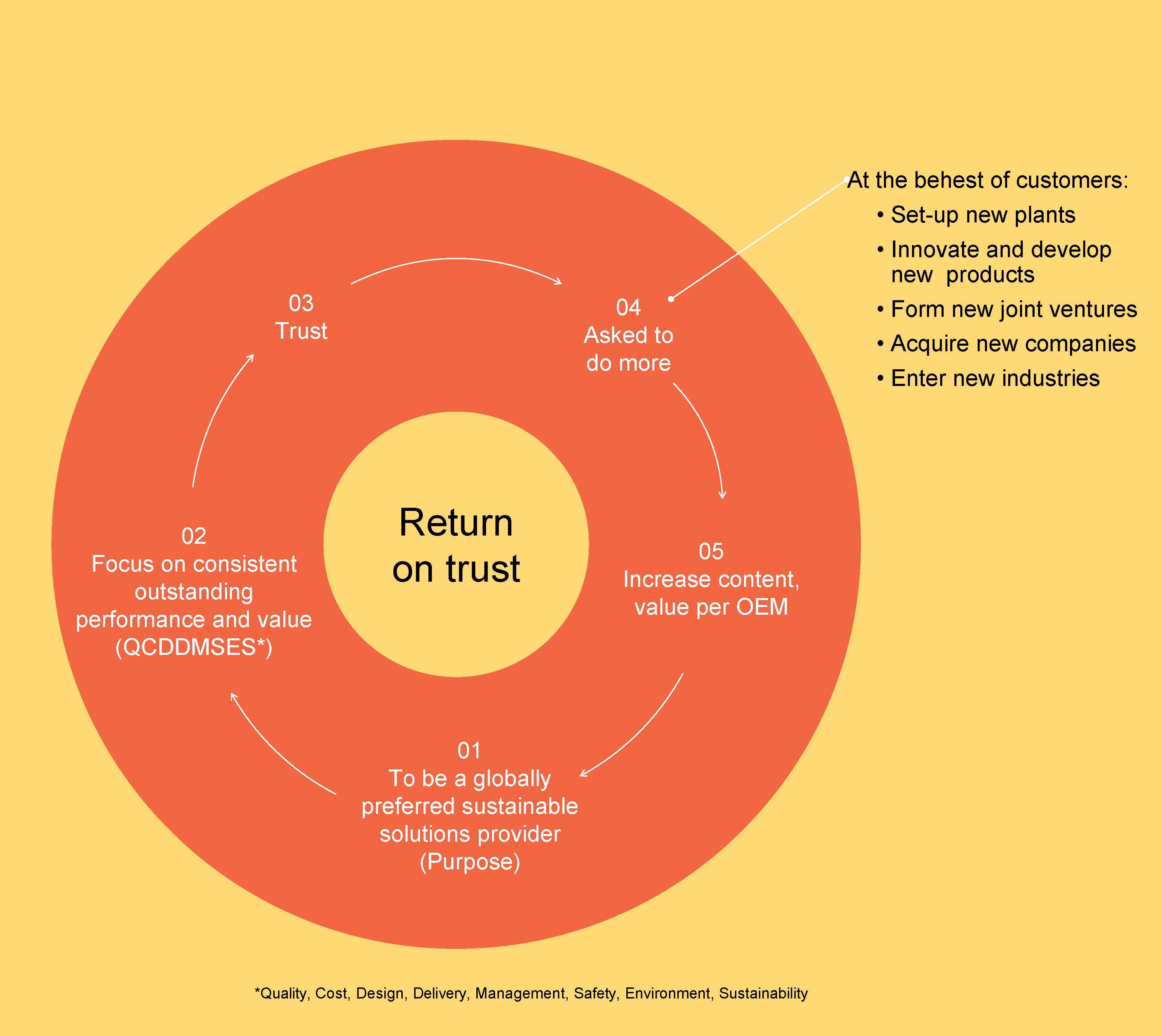 At Motherson, we truly love the role we play in making automobiles, supporting the world's most admired car brands, helping them solve problems that have not yet been solved. Drivers may not see us, but when they sense that their car is made by people who really care, they sense our presence. And that is good enough for us. We are proud to be part of all the legendary brands we work with.
Similarly, as employees we are proud to be part of Motherson. Many of the people who were there at the start are still with us today. We are equally proud to be part of the communities that host our plants around the world. We try to contribute to them and strengthen the vibrancy and wellbeing of the societies we work in.
We are proud to be part of the ever-growing prosperity of our investors. In 1993, our company Motherson Sumi Systems Limited (MSSL) now renamed as Samvardhana Motherson International Limited (SAMIL) was listed on the stock exchange. Ever since, we have focused on giving good returns to shareholders, we continue to value the trust they place in us.
01 Purpose
The overarching aim of Motherson is to be a globally preferred sustainable solutions provider. We want to support our customers and other stakeholders in ways that help them thrive and be more successful. To be part of their success, is very meaningful and motivating for us.
02 Performance
This motivation propels us to put in more effort and deliver exceptional results every single time, across a broad range of parameters. Performance leads to trust. There are a few things more important in business, and harder to measure, than trust. To ensure excellence, we have promoted a culture of continuous improvement through Kaizen processes and Quality Circles across our group. Motherson organises a yearly internal competition of its units, monitored by external quality experts, to honour the best and most constructive internal improvement projects. The many awards we have received from our clients show that they recognise our efforts in this area.
03 Trust
Performance leads to trust. There are few things more important in business, and harder to measure, than trust. Given the large investments required by both carmakers and components manufacturers like Motherson, trust is one of the most critical elements of success in the automotive industry. It is built not over months or by just talking; it is built over years through consistently reliable performance.
04 Being asked to do more
The trust we have earned leads our customers to give us additional projects, deepening and extending our relationships. Sometimes we are asked to supply a new part, sometimes to set-up a new plant in a new country or market. In other cases, customers ask us to take over and turn around a supplier that is in trouble. Whichever the approach, our trust is leveraged to benefit us as well as our customers. It generates customer-led growth for Motherson, exposing us to higher value and fast-expanding markets. We believe this kind of growth is the most sustainable in the long run.
05 Increase content per car
Being asked to do more, increases our content and value per car. This generates new opportunities to work with customers on new products or new platforms. Such growth strengthens our ability to be part of the world's most admired car brands in new ways. As a result, the value creation process is an on-going cycle. "Proud to be part of" thus captures the culture at Motherson, our way of life. It summarises the long-term value creation approach we follow. It reflects our belief that the long-term success of a company lies not just in its physical assets but also in its intangible assets.